Broken Hill's best outback walks explored
Broken Hill, known as the "Silver City" is Australian's first heritage-listed city. It's famous for its mining of silver, lead and zinc by the company Broken Hill Proprietary Limited, now called BHP Billiton.
When visiting this charming place, you will discover the history, culture, and beauty by treating yourself to Broken Hill's best outback walks. You can choose between the 'Broken Hill Heritage Trail', 'Sundown Nature Trail', 'Heroes, Larrikins and Visionaries of Broken Hill' and the 'Flora and Fauna Sanctuary walking tours and trails'. Don't forget to collect free maps of these tours from the Broken Hill Visitor's Information Centre to gain full advantage.
For those interested in the varied plant and animal life of the Broken Hill area, this is a 180 hectare sanctuary, 6kms outside the city. On this walk, you can take in the flora and fauna and the 2.2km cultural trail. This taking you through the Arboretum and Sturt's Desert Pea Wildflower display.
However, you can take another 1km trail to visit an unusual sculpture display situated on a hilltop. A memorable experience is to see the sculptures with a magnificent sunset as a backdrop. These sculptures were done in 1993 by five international artists. They capture the relationship of the region's environment and art.
This is a two hour walking tour of Broken Hill's amazing heritage buildings. As you walk guided by the tour sign posts, you will discover the character of this outback city. Also being able to see heritage buildings as the 'Trades Hall', 'Post Office' and 'former St. Joseph's Convent'.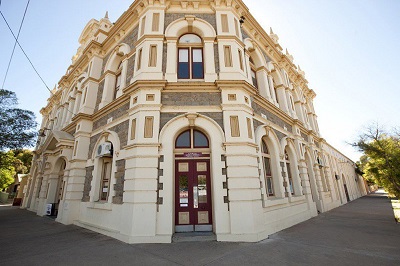 Take the 2.8 km walk in the Sundown Hills, where you will see plenty of native animals and in the right season, wild flowers and ephemeral grasses. These hills are covered with hardy vegetation which has adapted to the harsh desert environment.
On this 1.7km walk from the railway station to Billy Goat Hill, you will learn about the diverse characters that have given Broken Hill a unique identity. You will be enlightened about such people as the world's smallest mine worker, the first lady blacksmith of BH, world famous artists, singers, actors, writers, gamblers and even cheats. You'll also meet Dame Mary Gilmore, Chips Rafferty, Shorty O'Neill and June Bronhill.
Including Broken Hill's best outback walks in your exploration of the area will give you an enjoyable overview of this unique outback city.