A taste of Broken Hill galleries
                         –
Broken Hill, NSW, Australia.
For the art-lovers, Broken Hill is a heaven. This place has a wealth of galleries, both large and small to suit the tastes of any visitor. Indeed, many people visit the prominent town for this reason alone.
Let's delve in and see what's so great about these galleries shall we: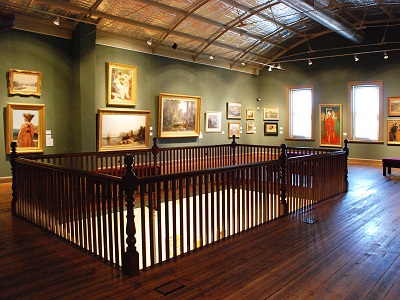 This is the oldest art gallery in New South Wales. The building itself, formerly Sully's Emporium, is considered a National Heritage Site, with much of the original structure been preserved or restored.
The gallery was established in 1904, following a donation by Mr George McCulloch. Including three major works; Lynmouth, North Devon, by James Webb – 1867; After the Bath, by Hariette Sutcliffe – 1890; and Memories, by John William Godward RBA – 1891.
In addition to the displayed artworks, Broken Hill Regional Art Gallery often hosts exhibitions, workshops, lectures and educational activities.
Pro Hart MBE, was born in Broken Hill in 1928, known as Kevin Charles Hart. He became famous as an inventor in his early life, earning him the name 'Pro', a shortening of Professor.
Though criticized and ignored by the art community during his lifetime, his work was nonetheless popular both locally and internationally. Upon his death on 28th March 2006, he became the first Australian artist to receive a state funeral. This was held in Broken Hill, at the request of his family. He is now widely considered to be the father of Outback Art.
Pro's works are as varied as his techniques. Though he mostly painted in oils and acrylics, depicting scenes from the world around him, he was also a sculptor. Working with steel, bronze and ceramics.
The Pro Hart Gallery hosts much of his work, including his hand-painted Rolls Royce collection. This is a must for any visitor to Broken Hill.
In addition to these galleries, Broken Hill is home to half a dozen smaller art galleries, including that of Julie Hart, daughter of Pro. Whatever your tastes, Broken Hill is the place to discover the art of the Outback.